This exact guy comes up in TIL about every two months. Anyway, I knew him back in scouts. He was both mentally ill and a genius, but back then everyone thought of him as just "sorta weird".
"Sir, you have a glowing resemblance to the suspect we are looking for..."
Yup, dude was a little crazy. I think he died last year sometime as well
It wasn't actually aliens. It turns out that his brain was just malformed, causing him to perceive subconscious thoughts as visual and auditory hallucinations.

The 'insane devices' were just ripoffs of the Rube-Goldberg breakfast machine from Pee Wee's big adventure. The only difference was that instead of you eating "Mr. Breakfast" in the end, "Mr. Breakfast" ate out your ass.
I used to know a schizophrenic electronics genius who could make some of the most insane devices. Claimed he got the schematics from Aliens.
Does he look like that because of the radiation or the meth he was on while building it?
The article is confusingly written, but it seems like he's 31 in this mugshot after stealing a bunch of smoke detectors, and also back when he was a teenager, he tried to build the neutron gun?
I will give 1 million dollars for a ten percent stake in the company
Pretty sad story. His mother killed herself after the incident. Clearly a very troubled guy, but also pretty smart.
He tried to build a breeder reactor. Not sure about this neutron gun business.
Hey smoothskin, do you need something?
Not if they didn't care about life.
Reading through the article, he definitely doesn't come across as a genius, just insanely dedicated. An actual smart person would take steps to avoid irradiating themselves and their surroundings...
He needed the neutron fun to convert things that weren't uranium into uranium, in a nutshell
Just read his Wikipedia. Drank himself to death.
Maybe not, but I know the story. Aliens told it to me.
He had access to a different style of thinking that to his own mind appeared to originate outside of his own knowledge.

He simply misattributed the phenomenon he was experiencing because our understanding of schizophrenia is still so limited.

Maintaining and becoming comfortable with high levels of uncertainty is an important skill for any schizophrenic to develop. Once we come to believe something firmly, we can build on that belief rapidly, integrating it with other beliefs, allowing us to come to dramatically eccentric delusions like this alien one very quickly if we allow ourselves to come to conclusions too quickly or without enough thought. It is a style of thinking only, and one that can be learned and utilized.

Source: personal thoughts on schizophrenia, I am myself diagnosed. I also have experienced the phenomenon where I did not believe what I was doing was my own work, but this more relates to the overall idea that man was never meant, or maybe just happened to, believe he has a personality. Schizophrenics see the cracks in our makeup, and have a hard time believing they are any one thing, capable only of one range or set of human activities. We know (consciously or not) that we are capable of anything, in a way the normal person can't be (the type of person who would get repulsed at something others do, anf believe they themselves could never do the same), they have a strong sense that they are good, or bad, or whatever they have concluded they are. A schizophrenic who begins to desire things apparently outside of his perception of his or herself will have a crisis that can be resolved with help, I believe, and a different approach to viewing his or her self.
Certainly, he knew how to use the old noodle, just not in a very good way. The dude even tricked people from companies, he harvested radioactive stuff, dude was real smart I bet

Edit: Changed stable to good
He needed the neutron fun to convert things that weren't uranium into uranium, in a nutshell

Don't change the typo.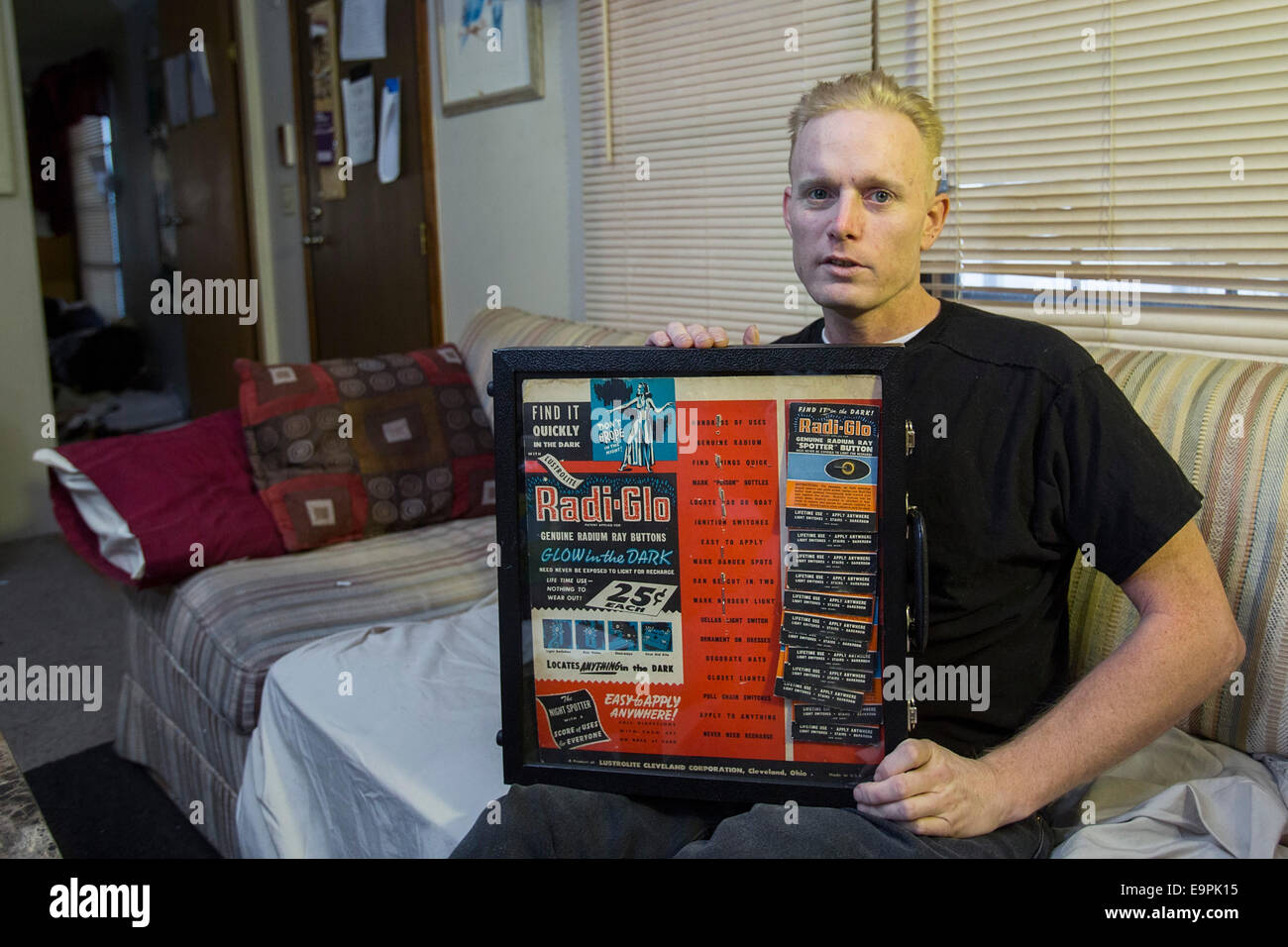 I thought it looked like meth too. I did a little digging, and that does appear to be the guy, based on other pics of him. But, that REALLY looks like it came from the "Faces of Meth" series.

Edit: The more I think about it, the more I think this was meth and not radiation. He had had large radiation exposure like 15 years earlier, and sores like that wouldn't show up two decades later, I don't think. Skin response to radiation is more like a burn. He clearly had a substance problem since he later drank himself to death. I'm going with "meth".
IIRC most of the shit that causes "meth face" is scratching and picking at your skin, which amphetamines(and opiates to a lesser degree) can make you do. It's possible the guy has a serious nervous tic that makes him pick and scratch even without meth.
You... You aren't u/MooseMalloy
I knew this guy. He drank himself to death in later years, but when this picture was taken there was no meth. Only his "science experiments".
If you check out the Wiki article on him, it says it was likely the result of radiation exposure. He was caught stealing smoke detectors at his apartment complex for the americium
He wrote letters to different companies asking for smoke detectors and received lots of them for free. That's how he sourced enough radioactive material for his attempt at a breeder reactor.
You can be a careless genius. ADHD is a bitch.
"It took 20 years of stealing enough smoke detectors but finally I have enough radioactive material to complete my device!"
Dude died of alcohol poisoning in 2016
I've read about this guy multiple times but this is the first time I've seen the picture. Holy shit that's bad.