The Ministry of Truth strikes again.
This is a double plus good idea

Edit: Thank you so much for gold kind redditor!!
Minitrue does not strike, comrade. Freedom is slavery.
You can scratch it off to reveal the title and author
Big Brother has announced a ration on words. This sacrifice will bring Eurasia East Asia to its knees.
Does this one do that? I thought it was one of the ones where it just looks blacked out, but if you look at it from the right angle it reveals the info.

Either way, very cool cover design.
Penguin did a series of these for banned/formerly banned books.
Wait this book was banned? Well that's pretty damn ironic.
I can confirm that you can remove the black bars and see the title and author below - I've had mine for a while and it wares away after a while
They theoretically have the power to strike, but they have never used it.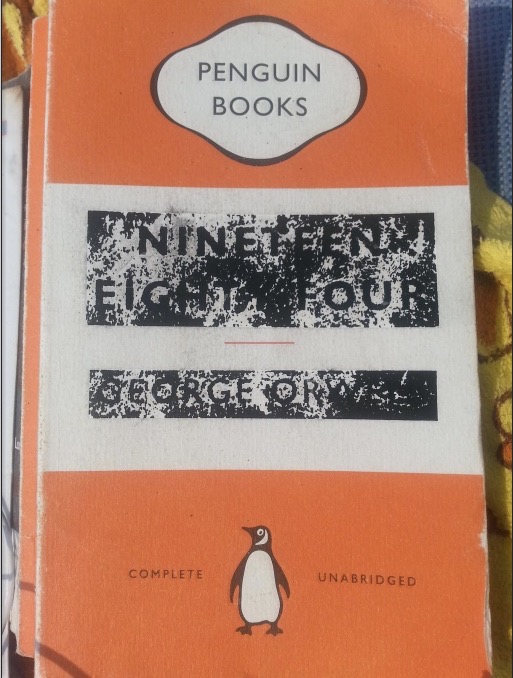 No. The book was sold like this for a time, here is another image where the black has been "scratched off" (as was intended by the design) to reveal the name:

Remember 1984 is also about censorship, the blacked out name is a reference to the book itself.
Eurasia are our allies. We were always at war with East Asia.
Theoretically, yes. But in that world being an individual is liable to make you disappear.
Probably part of Banned Books Week. Some stores do that to highlight all the books that have been banned at one point.
But last week, surely, I heard him say we were at war with Eurasia. Just last week I thought...
"Complete and Unabridged"

Uh... Huh...
Besides everything is perfect. No intervention needed. Just like always.
...because people without the rights were selling it.
"Banned" in America is a subjective term. Only individual libraries or school systems can ban books (with questionable legality). Truth is, that labeling a book as banned increases sales, which I am all for if it means to encourage more reading.
An interview with the designer David Pearson here: https://www.creativereview.co.uk/orwell-covered-up/

He's very good - worth looking up some of his other work if you like this.
Ohhhh. The copy of the book my mom gave me looked like that. I didn't think much of it... but it was a scratched off "blacked out" version of the book. That's cool.
Mmm nothing beats the smell of communism and oppression
The book was written by the ministry of truth to expose dissent. Goldstein is not real.
you wouldn't be dissenting now would you citizen?
There is no war with Ba Sing Se.
We had to read this in high school. Two days later the book got pulled and we had to read The Outsiders instead. Apparently students were asking questions. Yeah. The fuck.
What a fun read! Speaking of fun, have you had your Joy yet?
This was designed by David Pearson! I met him last month and he said that was kind of a lucky coincidence that happened. He gets sent pictures of the books in various states of scratched off and he loves it! Really great guy and wonderful designer!
Thanks to the Ministry of Love, not Truth.
The Headlong version in Broadway? I saw it/had friends in it when it was in London. Fantastic piece of theatre, truly remarkable. Very happy it made it to the US. The "journey" to Room 101 will stay with me for eternity. Spectacular.
Penguin Books are the meta whores of the book world. Everybody knows that.
If it really was minitru then the book wouldn't even exist.
Except before Ingsoc and Big Brother, but that was a doubleplusungood time and liking it is thoughtcrime.
That was the work of East Asia spies!
You obviously haven't read 1984
Yes. I don't think it was that Amazon suddenly decided to pretend George Orwell never existed because his message had become unhelpful to Amazon.

It was rather ironic that they can delete or alter books though, without warning and without changes being obvious, and that Nineteen-Eighty-Four was the book which brought this to our attention.
Next your going to tell me we are not at war with eastasia and 4 is 5.
They put the act in redacted
It wears away with use, i.e. doing what ingsoc don't want you to do removes it.
Je suis baguette. Omelette du fromage.
No i think it's a scratch and smell
Definitely NOT the Broadway version. This is in Houston. It's a newer adaptation.

Room 101 is still cool though. Rats.
Orwell was a Socialist, believe it or not. He wrote 1984 and Animal Farm, not as anti-communist, but anti-authoritarianism.
You think that's ironic? In the introduction to Animal Farm (IIRC it was Animal Farm, might have been another of his works) he wrote about Western methods of censorship as opposed to Soviet ones. It was censored out of the edition.
Minitru would never allow the publication of something that wasn't complete and unabridged.
Orwell wasn't anti-communist, though. And before you bring up Animal Farm, that was anti-Stalin. He was actually a democratic socialist (not to be confused with social democracy)
The Earth King has invited you to Lake Laogai.
Yes, you're catching on very speedwise.
How can you tell?

It say it's 'complete' AND 'unabridged'.
Would the penguin give you side eye if he was lying?
I upvoted that post a year ago. Goddammit I've spent too much time on reddit.
Here's a sneak peek of /sub/LateStageCapitalism using the top posts of all time!

#1: | 437 comments #2: pretty much | 842 comments #3: Watch this advert or choke to death | 665 comments

I'm a bot, beep boop | Downvote to remove | Contact me | Info | Opt-out
t͇̞̘̮̼ͫͬ͆h͔̩̱͓ͥ̍i̤̺̲̰͉͕̔͋͑̀͂͟s͇̈́ͫ̽͆̊ ̨̟͍͒̋̐i̤śͥ̏ͤͨ̏͏̼̖̦̫̼ͅ ̷͙̠̼̒ͤ̑g̸̖̭ͬ̐͊̓̈́̋r͖̤͍͍̹͝ë͓̫͖̩͙̗̺͊̍̾̔̀ḁ̰̦̻͖̳̣͘t̫̼̜̻̍͐
that late state capitalism sub is full of shitheads.
thoughtcrime in oldspeak, expect the thought police at your door soon comrade....
Isnt soma Brave New World? Pardon if I am missing some joke.
It's a legitimately excellent book.
Any idea what kind of questions they had asked?
I have the same one, the author and title are embossed so you can read them when held up to the light
I'm honored to accept his invitation.
I thought it was just this title that had the name and author blacked out?
This was how the book was printed. My copy looks the same way.
What a wonderful goodBad idea.
is this the definition of "Meta" ?
I've seen the movies (after reading the book) but I feel like a play would be so much better. There's so much emotion in the story.
Winston's whole job is censorship.