Same way /sub/oldschoolcool gets on /sub/all fast: girls in suggestive poses in images dated well before most redditors were born
How the fuck did this get on /all so fast
Jill be limbo

Jill be quick

Jill bend over and take this dick
That's not Jack, that's Jill 😋
God fucking dammit. They're getting rarer these days. So when you find one it's even worse.
Nah, they just mad good at limbo
The bendy part is an edit. Looks like some typical medieval tapestry. (insert actual name here)

Scrolling my hardest through google images to find it.

edit: I give up,

Edit II: OH MAN I'M WRONG. I found this ("Detail of a miniature of the bringing of the head of John the Baptist.") in a catalog of illuminated manuscripts.

Bending backwards was really some kind of theme.

Edit III: found the original. Hot damn!
I want to know the real reason behind that art... where did it come from?
Because it's super relatable and ALL redditer have FRIENDS and MATES and are outside and see other humans in real life and I AM a human too.
My damn boyfriend when I tell to just be casual and he has to be all, "WHAT? WHERE? THAT LADY WITH THE BEARD? YEAH I SEE IT."
I would never have expected that to be a real subreddit, but there ya go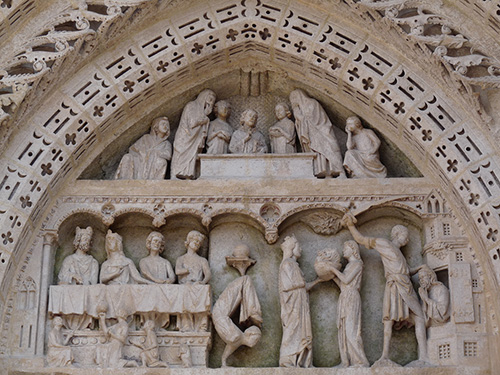 Hey... I'm a medieval art historian... so this image is of the dance of Salome from the Bible, as /u/shea241 found in the manuscript from the British Library. Basically she did a crazy impressive dance and as a prize her dad (/her mother's husband)— King Herod— gave her the head of John the Baptist which for some reason she wanted (Mark 6:21-28, Matthew 14:6-11). This has been treated in a lot of famous art and medieval people were just doing their own special thing with showing someone in motion/showing off mad dance skills. See the following wonderful examples: [Breakdancing] OP in context -->Renaissance version
US Congress should be good at this game
Looks like it was real, found another example of bendy-ness in a real archive. Edited my comment!
I went and read up the Biblical story and I understand why she is all bendy now.

She is a dancer and daughter of Herod/Herodias. Thanks to her dance in that instance, Herod was going to give her anything and she asked for John the Baptist's head at the request of her mother.

For rest of story, read the following parallel passages in Bible:

Mark's account (6:21–28)

Gospel of Matthew (14:6–11)

YOU DID IT! The mystery has been broken! I need your research prowess, you're awesome :D
Are you sure about that? Because I am 99.9999% sure that bgtrewq is not a bot.

I am a Neural Network being trained to detect spammers | Summon me with !isbot <username> | Optout | Feedback: /sub/spambotdetection | GitHub
Wait it's not "Jack be nimble"?
"WHAT? WHAT ARE YOU WHISPERING ABOUT, I CAN'T HEAR YOU WHEN YOU WHISPER"
She graduated from the Boa Hancock school of talking shit to someone.
Excuse me, but I must ask you to remove this post. My grandson uses this website and I do not want him to see something as inappropriate as this post. I cannot accept you posting such awful things on the good Christian Internet where innocent children can see them! The Internet should be a safe place for kids to spend their time without adult supervision! I am reporting you to Facebook and contacting my state politicians to inform them that such filth is being posted online, and I hope they will pass some laws to prevent this from happening again. Thank you and God bless you. Facebook please post my comment now I am done talking, thank you. Bob, can you get some Beano at the store? My gas has been acting up and it is really getting out of hand and I don't want to offend the Franklins when they come over for dinner tonight. Oh, and have you tried this voice thing on your phone, dear? It lets you talk into your phone and then it turns it into text so I don't have to push those tiny buttons to write on Facebook anymore. Isn't that great? It's been so hard to type on that damn keyboard. It's so little and my arthritis makes it impossible to use. It's bad enough that I don't understand all the things our little Johnny is posting on his Facebook. What are these me me things? A lot of them are very inappropriate and rude. I think his account was hacked, because our grandson would never post such terrible things, right? He's such a sweet boy. I can't wait to see him graduate from university! That reminds me, remember to pick up a gift for his graduation. Maybe get a bottle of sparkling cider, not champagne since our sweetie bear doesn't drink! He's such a good boy. Okay, I'll talk to you later honey. I love you. Goodbye.
When you have a small dick and they know it