Arrows to the right of me, guns to the left.. here I am, stuck in the middle with you
this is why we let boy-guns be boy-guns
Today's genders: Bow Woman & Gun Man
You sure that's not a chick?
He fits in perfectly. Because he's BATMAN!
This is why I was overly excited when I bought Doom used from GameStop and the guy gave me the

.

So bad ass. I felt like a kid again looking at all the details and stuff.
Malcolm?

Edit: damnit, was too late. Someone else replied with that.

Edit 2: hah! I beat the other guy!
I believe the two characters on the left are protagonists; they aim their weapons to the right to subconsciously appear positive (because we read left to right).

Idk if Horizon or Tomb Raider are multiplayer, but I know Titanfall 2 and Battlefield are, so the two men aiming their guns to the left are meant to be seen as threats
If I wasn't poor this would be a comment I would give gold to
Idk if Horizon or Tomb Raider are multiplayer, but I know Titanfall 2 and Battlefield are, so the two men aiming their guns to the left are meant to be seen as threats

Titanfall 2 also has a singleplayer and i think the guy on the cover is Cooper - the protagonist. I think his job is not to look as a threat, but to look as cool as possible ;)
It should also be noted that all 4 of them are shooting right hand dominant*
Someone gave you gold... That's just... Cruel...
That they're all right-handed?
Why thw downvotes? This comment is hilarious
Oh my gosh, you're the hermaphrodite cheerleader from Long Island?
Going with that meme is a hit or miss, you never know what way the votes will tip.
Yeah but then you have to upload it to Facebook or Twitter, login, wait for it to appear, save the picture to your phone, and then upload to Reddit. It's much easier to just take a picture and post it. Besides, it's not like he screencapped an in-game picture or anything. I would've done the same thing in this instance.
Why did you point it out? Just suffer on your own, dont bring us into it.
So he's genderfluid...? I'm confused.
Did you also notice the screenshot button on your controller?
Wait... You can have folders on a PS4?
But what about the boy-people?
Pretty much. To show the torso the guns would aim to the left side if the box, using a bow they would have to face the right.
A surprise, to be sure...
I like how you say females
For awhile now since the last major update
I think your reasoning is best
Guns to the left of me, arrows to the right.. here I am, stuck in the middle with you

FTFY
And that doing so with their respective weapons means that they have to face opposite directions to be open to the audience. If a right-handed shooter aims to the right side of the frame, their arm blocks off their chest from view and their gaze is necessarily pointed away from or past the viewer. The same applies to a right-handed archer shooting to the left of the frame.

The possibly sexist observation to make here is that women are posed with bows and men with guns. I don't know about Horizon, but Lara Croft definitely uses (and had previously been with) pistols, too. My guess is this trend is driven by the popularity of Katniss from The Hunger Games.
Reddit is a fickle bitch.
The issue is that you need to communicate what your game is about, and sometimes box art fails to do that. A dude shooting a gun or whatever is what a lot of games are about, so putting a dude shooting a gun on your box art makes sense.

That said, I'm constantly confused by not being more common. It accomplishes the same goal of showing the main character being a space marine fighting, but it communicates more about what the game is about (dude fighting demons). This isn't a perfect piece of cover art (there is not enough contrast) but... yeah.

Incidentally, Horizon: Zero Dawn does clearly show a giant robo dinosaur on its cover; they just randomly zoomed in on the lady for some reason here.
I bought the game on Steam. Now I feel like they should have shipped me an empty box (in addition to getting the game, of course) so I could display it.
Most people prefer to shoot arrows with their hands though...
Standing aiming a weapon has replaced walking toward the camera (with optional fire) then.
My inbox is full of Malcolms now. I went with Batman because "clowns to the left of me, Joker's to the right"
Hes a man, real men use bows. Especially when they're wearing a super powerful exosuit fighting aliens
The two on the right are completely different games compared to the ones on the left. So it's kind of an apples to oranges comparison.
Publishers use basic bitch game covers because they sell better because they're more familiar to casual gamers, plain and simple. The people that continue to whine about this clearly have no idea how marketing works, hell a shit ton of major titles have alternate box art anyway.
Dear God what. Yesterday I was complaining about not having folders...
Hmm with a counter argument of this magnitude, this should be a fun thread.
What link ? I can't see any link in the comments.
I was thinking its more to do with the right hand being the dominant hand. On the bow you need to draw with the strong hand but with a gun you only need one hand so you use your strong hand.
a grammar nazi somewhere out there just blew his brains out
In Horizon, your primary weapon is pretty much just the bow (and rarely a spear), so posing Aloy with her bow makes the most sense.
You could always print out custom art and put it on blank DVD cases
You know you hit the right troll level when you spur the right mixture of hate, laughter and confusion.
https://youtu.be/dprsFhqKa_o?t=156
That decision not to use the Japanese boxart is blowing my mind.
I actually wish there was a site that sold empty games cases. I know, piracy and stuff. I just want the convenience​ of digital but also have a cool collection to look at :(

I'd happily pay Steam and extra (optional) 5-10 bucks if they shipped me a case.
It's just cause of the weapons they're using and the characters being right-hand dominant. Bows you pull the string back with your dominant hand, so to pose the character so you can see their front they have to face left. Guns they face right.
Bt is already enough of a threat.

Hold on tho

Horizon zero dawn-titanfall crossover

GUERRILLA START WORKING ON THIS RN
Just an observation. The 2 on right are males. The 2 on the left are non-males
This was great. I don't give a shit about box art but this was great.
Dad I'm gonna bleeeeeeeed!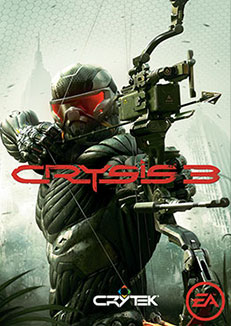 Games with cool bows are disproportionately likely to put them on the cover; Crysis 3 had a dude wearing power armor who fought primarily with guns,
Dang, you're getting downvoted like crazy. Just wondering though... was this a Gorillaz reference?