It looks like the sink is working double time and the urnial isn't at all.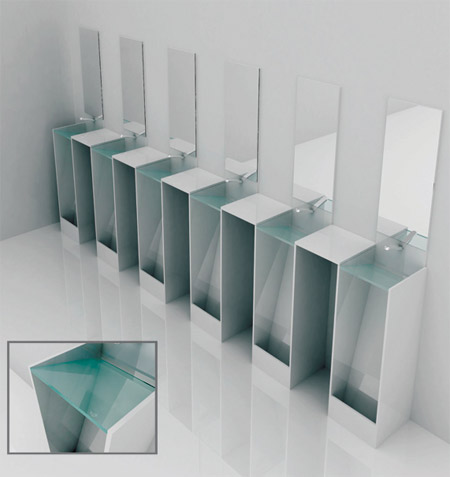 Why we can't have nice things.

But this would work in people's homes. I'm currently designing a micro-apartment and this intrigues me.
In people's homes you still need a normal toilet which also works for peeing. So if you need to save space just don't install any urinal at all.
People will pee on the faucet handle.
Probably because houses in Europe and America usually have more space than those in Japan, combined with the fact that this design has a very small sink in a weird position for the person using it.
The smell is surprisingly bad.

Source: had a friend who had a urinal installed in his bedroom. Yes bedroom. Rich people are stupid.
Reminds me of when I was in prison.
Yeah, from a half hour ago.
Most home toilets are like that in Japan. Can't understand why Europe and America never adopted that.
Yeah especially in California.
This makes me think of The Sims. I had an expansion that added public buildings to the game, which included urinals. In the normal home building part of the game, you could literally put a urinal in any room in the house and it would make all the guys in the house happy and all the women pissed. I thought it was hysterical seeing the sims clap excitedly because I just put a urinal in the kitchen.
Sure but we've got enough water
Why not just go for a number two and pee on your hands to clean them?
Remember trying to pee only on the porcelain above the water line so it makes no noise?
Let's be honest, we men get too much enjoyment from peeing.

Remember being a kid and trying to fill the toilet bowl full with bubbles from the pressure?

Or how about when you peed outside and tried to get the stream as far as possible and almost tore your urethra?
Finally! A urinal that let's me wash my dick and balls when I'm done!
Now THAT'S usin' your pretzel!
Fuck that concept art. The amount of piss your going to get on your pants and shoes, might as well just piss on the floor
Was thinking the same thing
Also it's a bit awkward to have to lean over a toilet to wash your hands.
Efficient water use too, if the water from the sink is being used to clean out the urinal.
I don't think I'd be able to piss while looking at myself and those around me in a mirror
Captain obvious over here.
The only reason i considered it is that a lot of times the space under the sink is not utilized because there is enough overhead space in the bathroom. But a urinal would let people save water as they dont need to flush.
Concept art would splash all over the place.
it doesn't go down to a septic tank at all. this kind of space use is only really done in a densely populated area where a septic tank is already impractical.

the thing with bleach is more general. mixed with ammonia (in urine) it creates a toxic gas.
I live in Sahara, I always let it run for a while
Remember being a kid and trying to fill the toilet bowl full with bubbles from the pressure?

Being a kid? I'm 25 years old and still do that
I think it is more economical. Flushing toilets takes up a lot of water.
I don't mean to be a douche for chiming in, but you're using that phrase backwards. It should be "...half-decent dribble, let alone a solid stream." The format of the phrase is "I can't even get [worse/more pathetic thing], let alone [better thing]."
Yeah, but it's far too easy now. I miss the challenge.
That urinal looks pretty thrilled.
Can't decide if huge time saver or waster. If your standards are that low, just piss in the sink...
The pee cycles round to the tap.
In Japan we also have normal bathrooms were the washing machine and walk in shower / bathtub are and they have a normal sink.

This is just for the small closet of a room where the toilet is. If anyone is interested I can take pics.
If your dong is in the shape of a pretzel something is really really really wrong with it
Use it for self affirmation time.

"Yeah, that's right. You rock. You even rock while you're pissing. Don't worry, they are just starting at you because you're awesome. It has nothing to do with you talking to your reflection, out loud, while peeing. You just kick that much ass. Yeah."
Really disappointed this didn't exist.
As a tall dude, that would really be my only option with that contraption.
If you washed your hands with soap using this sink / urinal combo, would the soap kill the bacteria needed to break down waste in septic tanks? I know bleach isn't supposed to be put in toilets for this reason.
Seconded, in fact, I just blasted up some awesome bubbles this morning and said out loud "ooh, frothy!"
diagram unclear, pooped on floor
You don't bag up your shit and use it to fertilise your window boxes?
The sink is encouraging people to pee in the sink.
I personally like to make it as loud as possible so everyone knows I'm peeing
I have been putting bleach in the toilet for my whole life... Forgive me world.
Yeh, maybe I'm just fussy but I don't like the idea of straddling the toilet to brush my teeth.
An example of style over function.
This is a toilet in a separate room. There is still a bathroom with full amenities. The sink is solely to rinse or wash your hands after using the toilet.

I'm from Australia and I associate toilets in bathrooms with a few things: ensuites, shitty bathrooms, hotel rooms, and America.
Maybe some thing like or this then.