I changed the script for my browser to enable infinite scroll on Google...the laughs on you
You can scroll down on google???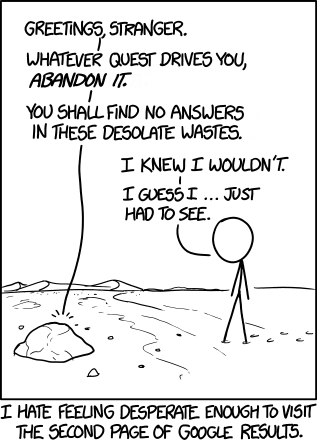 Title: Second

Title-text: Let me just scroll down and check behind that rock. Annnnd ... nope, page copyright year starts with '19'. Oh God, is this a WEBRING?

Stats: This comic has been referenced 84 times, representing 0.0500% of referenced xkcds.

xkcd.com | xkcd sub | Problems/Bugs? | Statistics | Stop Replying | Delete
Your submission has been removed.

Violation of Rule #0:

The content disregarding the title and superimposed text must be directly related to programming or programmers.

The title or superimposed text must substantially enhance the content such that it can stand on its own as an analogy to programming. Note that programming here is interpreted in a narrow sense, an analogy to something related to programming, feelings about programming, reactions to programming etc. is not considered sufficient.

Your submission would be better suited for /sub/techhumor. See the sticky for details.

If you feel that it has been removed in error, please message us so that we may review it.
Wait, google has a second page?!
You know you're desperate for a solution when you start looking into page 2 or further.
Shouldn't freenet be on there somewhere?