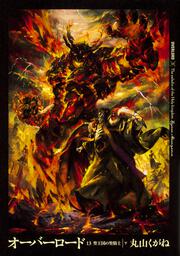 APRIL 27 NEW NOVEL

Enjoy using the translator! https://www.kadokawa.co.jp/product/321709000664/ The official page of Kadokawa confirms its date. :)
Here is the translation from Nigel:

"Ainz Ooal Gown Dies. The Holy Kingdom is surrounded by an allied army of 40'000 demihumans. Commanded by Remedios - the strongest paladin of the Holy Kingdom - the human army is too fatigued from their defensive battle to keep the demihumans from trampling them. In order to fulfil the promise he made as a king, The Sorcerer King Ainz stands alone against the Demon Emperor Jaldabaoth and the Maid Demons under his command. And then-

Can the flame-wreathed Holy Kingdom be saved - Volume 13 points the way toward justice."
that's some funky translations, lolz

"futuristic associations"

"extravagant of an ape"

too funny
perfect. we should be done with the anime around the first week of april. only 3 week wait for new overlord content.
Its the longest volume so far with over 500 pages.
Google Translated:

Einz · wool · gown die. Holy kingdom besieged by the army of 40,000 futuristic associations. Under the command of Remedios, the strongest Holy Knight of the Holy Kingdom, a defensive strategy is carried out, but the exhausted human army can not stop the extravagant of an ape. To fulfill the promise as a king, Mage King Einz confronts the Emperor Yardabaot and his maid devil alone with one person. And -

The holy kingdom enfolded by the crimson flames will be relieved - 13 volumes led by justice.
It will have 13 chapters this season, so the second ends in mid-April, and not early.
Not really... Overload 13 Under the Holy Knight of the Holy Kingdom

Einz · wool · gown die.

Author Maruyama Kugane Illustration so-bin List price 1,296 yen (main body 1,200 yen + tax) Release date: April 27, 2018

Overload 13 Under the Holy Knight of the Holy Kingdom Einz · wool · gown die.
The news is real, but what is published by Jeannesis is not information that I see on the Kadokawa page.
Prob a recap ep somewhere in the middle